One-handed knit stitch cowl with squishy soft alpaca yarn
On Saturday, we went to Apple Fest in Bayfield, Wisconsin. Even though I can still only knit with one hand, I brought along my new skein of alpaca yarn from last week's adventure and began a new project.
Knitting with only my right hand is slower, but I can get into a satisfying rhythm. When I began to practice purling, however, my right hand began to get sore after only a couple of rows. No way was I about to injure my right hand, too! So I decided to do a project in garter stitch, knitting every row, no purling! The alpaca yarn is perfect for this, because it makes the project special and soft, and the simple garter stitch shows it off perfectly.
I cast on 50 stitches on size 7 straight needles, and I'm going to keep going until I run out of yarn. Then, I'm going to sew the ends together, and I'll have a cowl!
Adventures on Snively Trail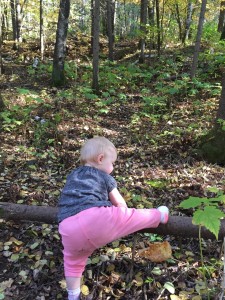 This week has been filled with opportunities to get outside in great fall weather. I love these cool breezy days. Two places where I enjoyed the brisk fall breeze this week were at Brighton Beach (also known as Kitchi Gammi Park) and on Snively Trail next to Amity Creek.
Snively Trail runs alongside Amity Creek on the far side of the Hawk Ridge trails shown on this map. It's also convenient for me, since it's right across the street from Chris's parent's house! To get to the trailhead, I took Woodland Ave, to Snively Rd, continued as Snively turned into Jean Duluth Road, then took a right on Amity St. Amity will curve around to the left and become Colby. It appears that there is a new trailhead being constructed right at this corner where it turns, but I used the trailhead further down Colby, where the creek runs under the road.
I was in the mood for an easier hike than the rocky uphill trail near our house, and Snively Trail fits the bill. The path is wide and flat, although every time I've taken it, it's been relatively wet in places. The trail doubles as a horse path, so I had to watch out for occasional piles of manure. The wide, flat path can be a little bit boring, but in several spots there are little footpaths that allow you to get closer to the creek to look around. Astrid and I took one of these paths, and I took her down from the carrier and let her play on the ground for a bit. She loved it. No need to manufacture "sensory experiences" for babies if you let them play in the woods! Next time, though, I won't forget her shoes.
Brighton Beach or Kitchi Gammi Park
A visit from family on Wednesday prompted a little outing to Brighton Beach. The sign at the entrance to the park says "Kitchi Gammi Park," but everyone I've known calls it Brighton Beach. The rocky beach is an easy way to get close to the water and take in the wind off of Lake Superior. Above the pebble beach, there's also a picnic shelter, grills all along the park, and some swings-baby swings and regular. As I wandered up and down the beach with Chris and my mom's dog, I realized that even this little trip counted as an adventure in Duluth, and worthy of sharing on my blog. That's why I love it here–it's just so easy to get out and experience all the nature our city has to offer.
A few more pictures: